Hunting for a new job can be a stressful and time-consuming process. Some job seekers choose to work with a recruiter to leverage their industry knowledge and connections while making the process as pain-free as possible. Others find advantages in searching for their next career opportunity without the help of a recruiter.
Take a look below at the benefits of working with a recruiter versus taking on the job search by yourself to determine the course of action that best suits you.
Different Types of Recruiters
First, let's break down the two types of recruiters you may end up working with: Internal vs. External.
An internal recruiter, or in-house recruiter, works for one company. Their job entails finding candidates solely for the organization that they work for. Pay structures vary from one organization to the next, but internal recruiters are often paid a base salary and receive a commission for each candidate they place.
An external recruiter, or agency recruiter, does not work for a single company; instead, they are hired or contracted by multiple companies to help those organizations fill their open positions. External recruiters typically receive a placement fee for filling a role.
Suppose a recruiter reaches out to you on LinkedIn or a recruitment platform. In that case, you can tell if they are an external or internal recruiter by comparing the company they work for with the company of the open position. If they are the same, you're connecting with an internal recruiter. If they're different, the recruiter is likely to work for a staffing agency.
Benefits of Working with a Recruiter
Let's now hone in on the benefits of working with an external recruiter, those who balance relationships between multiple organizations and a pool of candidates. They'll be the ones to search for available positions that you qualify for from an array of organizations.
Resume Help
Recruiters know the keywords that resonate with hiring managers. They can offer constructive feedback or tips to tailor your resume and help you stand out. They also know how Applicant Tracking Systems (ATS) work and provide guidance to ensure your resume successfully makes it through the system.
Large Network of Connections
Recruiters are the ultimate networkers. The nature of their job requires them to build ongoing relationships with candidates and industry leaders. Because of their connections, recruiters have access to various jobs, some of which are never advertised online. They may be privy to organizational or industry shifts or even upcoming job openings that haven't been formally announced.
Shared Goals
Just as you want to find a job, a recruiter wants to fill a role; their livelihood counts on it, too. Agency recruiters don't often receive a placement fee – or in-house recruiters, a commission – until a candidate is successfully placed. Recruiters play the role of the professional matchmaker. It's their job to find the perfect candidate to fill the organization's recruitment needs. Luckily, that means your goals are aligned.
Benefits of Applying Directly
Broader Findings
It's true that recruiters are often aware of positions that may not be widely available to the public or listed on job boards, but agency recruiters also work with a select number of companies. By handling the job search yourself, you may find an open role that isn't on your agency recruiter's radar. What's your best bet for finding your perfect job? Tag team the search efforts with a recruiter. Leverage a recruiter's intel and network while doing your own digging for open opportunities.
Ensuring the Right Fit
Before signing an offer letter, make sure you feel like this role is a good fit for you. When searching for open roles by yourself, you may be more diligent when reading through job descriptions or researching an organization.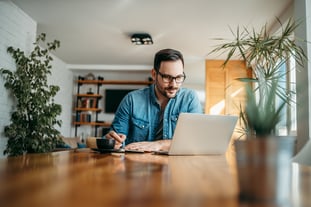 It's easy to trust that a recruiter will only present you with suitable opportunities. Although you may check off all the required qualifications, it's up to you to determine if the company is a good match. Consider things like work/life balance and cultural fit. How aligned are you with the company? Can you see yourself happy there long-term?
It's important to understand that a recruiter is paid by the company offering the open position. They are on the lookout for a candidate that will best fit the needs of the organization. With that said, recruiters do not want to jeopardize their relationship with the companies they work with – they are their clients, after all. Recruiters know that a mutual fit between candidate and company is a recipe for a long-term, happy relationship. If you fit the bill, your recruiter will be highly motivated to promote you for the position.
Deciding on whether to work with a recruiter or not comes down to your own preferences. If you're determined to make a career move, consider working with a recruiter while ramping up your own search efforts. Our team at FrankCrum Staffing is more than happy to help you begin your job search. Contact us today: 888-670-1844 or submit your resume to a FrankCrum Staffing recruiter here.