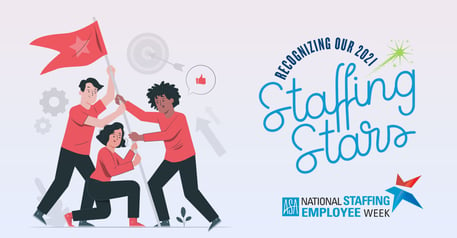 FrankCrum Staffing is joining staffing agencies across the nation in celebrating National Staffing Employee Week, Sept. 13 – 19. Established by the American Staffing Association (ASA), this commemorative week honors the millions of temporary and contract employees working for U.S. staffing agencies. We are excited to recognize three of our own all-star staffing employees during this year's celebration.
Read on to learn more about our staffing stars and why we celebrate this week.
According to the American Staffing Association:
Most staffing employees (76%) work full time, comparable to the overall workforce (82%).
Half (49%) of staffing employees say it's a way to get a permanent job.
Nine out of 10 said staffing work made them more employable.
One-third (35%) were offered a permanent job by a client where they worked on an assignment, and two-thirds (66%) of those accepted the offers of permanent employment.
This year, we are recognizing three individuals, one from each of our FrankCrum Staffing branches. Our 2021 staffing stars are Shedrick Houston, Clarence McDonald, and Lynn Hayden.
Shedrick Houston was nominated by our Tampa office. He started working with us in February 2021 after he saw a flyer in his neighborhood. He was looking for a stable job that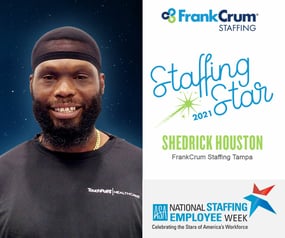 offered benefits. "During a tour of the job, the manager found that Shedrick was a 'jack-of-all-trades' and wanted him to start within three weeks," says FrankCrum Staffing Recruiter Yolanda Richardson. "He is now a full-fledged employee after completing his hours with us."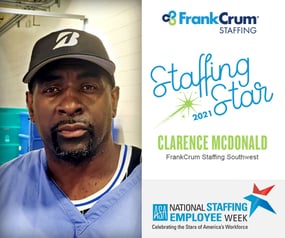 Clarence McDonald is another superstar of ours, nominated by our Southwest branch. When we met Clarence, he was living in a homeless shelter and commuting via bus. He was frustrated and unhappy with his current job, as he and other employees were frequently shorted on their hours and pay.
"I told him we would give him a chance with a client who paid better, and whose working conditions and culture were much nicer but was very clear that he had to show up for work on time every day, which wasn't going to be easy for him as he doesn't own a car," says Patricia Albright, Director of Operations for FrankCrum Staffing. "He needed to be at work every morning at 4:30 a.m. and busses do not run at that time, but he somehow persevered. His attendance and attitude are stellar, and he is like a new man. Last week, he came into the office to tell me how he has an apartment and is working toward purchasing a vehicle next. And, he has already been hired on as a full-time permanent employee of our client!"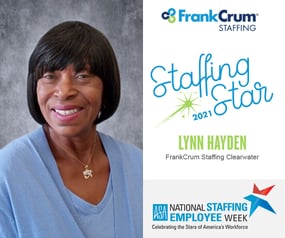 Lynn Hayden is yet another of our staffing stars, nominated by our Clearwater office. "Lynn has been through a lot of adversity," says Kay Taylor, Sr. Recruiter for FrankCrum Staffing, "From losing her husband to facing the dangers of her past job positions; finally, the amazing news of finding her forever work home! She has such a huge heart and is so dedicated to helping others."
National Staffing Employee Week nominees exemplify one or more of the staffing industry's key messages of "bridge" (ability to bridge or transition from temporary to permanent jobs) and "flexibility" (work schedule flexibility).
"The majority of temporary or contract employees move on to become full-time, so whether you are new to the workforce or just looking to grow in your field, FrankCrum Staffing can position you for success," says Haley Crum, FrankCrum Staffing President. "I'm proud of the work our staffing stars do and happy to have them as a part of the FrankCrum Staffing family."