Your resume is a powerful tool. It's your first impression, your foot in the door, and your opportunity to showcase all of the accomplishments that make you an awesome candidate.
But, unfortunately, the fullest potential of this tool is often overshadowed by common resume mistakes…leaving even the most qualified candidates completely overlooked.
We see it happen all the time, so we're here today to help make sure your resume doesn't slip through the cracks. Below are some of the most common resume mistakes to avoid, along with our tips on how to make sure your application lands at the top of the stack.
Grammatical Mistakes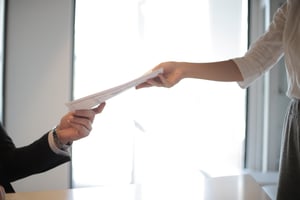 We'll start off with a basic: making sure your resume is free of any common grammar errors. It may seem obvious, but misspellings and punctuation errors make their way onto resumes more frequently than you might expect.
Regardless of the job description, a meticulous resume can bolster your candidacy in the eyes of a hiring manager.
Grammatical errors, on the other hand, suggest that a candidate lacks attention to detail, or that they are not taking the application seriously.
To avoid this, we suggest enlisting a proofreader to look over your resume before submission. This is one of the many services our team here at FrankCrum Staffing offers: Our professional resume reviews help candidates put their best foot forward when applying for a new position.
Unprofessional Contact Information
Another contributing factor to resume success is the professional presentation of your contact information–especially your email address.
A professional online presence is becoming more and more important in today's increasingly connected workplace. As such, if you don't have one already, consider making a new email address that you will use in your job search. Best practice is to use your first and last name and keep it as simple as possible.
This is an easy way to show hiring managers that you are serious about your career and that you are committed to presenting yourself professionally.
False Representation of Work Experience
Being honest about your work history may sound like a given, but it's surprisingly common for job seekers to fabricate or falsely represent their work experience when writing a resume.
A candidate who is applying for a job that calls for experience outside of their current skill set, for example, may be tempted to exaggerate the details of their professional background to better suit the role; this, however, never proves advantageous.
Hiring managers will inevitably ask questions pertaining to the listed work history and will be able to quickly determine whether or not a candidate's knowledge matches the level of experience they claim to possess.
The same applies for employment consistency. In the past, we've talked about how to address employment gaps on your resume, and the main takeaway is that being deceptive about periods of unemployment is never a good strategy.
The far greater benefit to your job hunt is an honest resume, which tactfully highlights your professional strengths as they pertain to the position for which you're applying.
Poor Organization
When reviewing an improperly organized resume, the hiring manager may be left wondering whether they should expect to see a similar level of disorganization from the candidate in their day-to-day activities.
Moreover, remember that talent acquisition teams are reviewing tons of resumes: Having to review a chaotic work history hinders their efficiency…making them less likely to put that resume at the top of their stack.
To best organize your resume, we recommend using bullet points to keep your information clear, concise, and easily digestible.
We also typically suggest arranging your work experience in reverse chronological order, so that hiring managers can easily follow the timeline of your career. Alternatively, a functional resume can work well for those who prefer to emphasize their skill set over their years of experience.
Above all else, we advocate for keeping your resume easy to read and simple: This is the best way to ensure your resume doesn't get lost in the shuffle.
Lack of Detail
We've established that an overly complicated resume will negatively affect your job search—but so will an overly simplified one.
Hiring managers are looking for specific responsibilities and skills you've acquired in previous positions, as it gives them a better understanding of your abilities.
For example: Let's say you are currently a recruiter, and you are applying for a job here at FrankCrum Staffing.
A description of your current job could be either of the following:
Option 1:
Option 2:
Conducted phone screens and in-person interviews of potential candidates
Utilized a CRM software for applicant tracking
Administered all onboarding paperwork and distributed payroll
While option 1 is brief, it fails to specify any of the skills you will bring to the position.
Option 2, on the other hand, remains succinct while listing specific skills and experience in a bulleted list. This option gives us a better understanding of your competencies and the scope of your responsibilities.
Present a resume that strikes a balance between simplicity and specificity, and you'll be on your way to landing the interview.
Failure to Optimize for Applicant Tracking Systems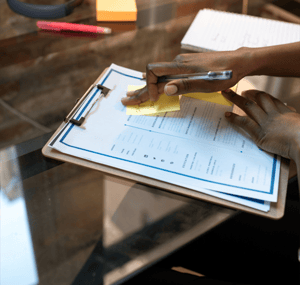 Business practices are becoming more and more automated in the modern workforce–and recruiting processes are no exception.
Many companies today utilize recruiting software called applicant tracking systems (ATS) to manage and sort job applications in a centralized database. These tools often serve as a first line of defense for talent acquisition teams: They filter out unqualified candidates and thin out the hiring manager's stack of applications to review.
Since your resume is more likely to be seen by a software before a human, we suggest integrating relevant keywords to ensure you make it past this initial barrier.
By authentically and naturally using key phrases in your resume, you can help ensure that the ATS flags your resume as relevant to the job posting.
We also suggest using a simplified format. Design-heavy resume templates use unconventional layouts and font styles–both of which can cause ATS scanning errors that prevent your resume from passing through its filter.
Final Thoughts
Your resume is just one of the many factors contributing to the success of your job hunt. We know it can be overwhelming, but our expert team at FrankCrum Staffing has the tools and guidance to help you along the way.
From interview prep to skills assessments, our job candidate services are designed to help you land your dream job. Find out more about how we can help you on your career journey by contacting us today!