Whether you're looking for your first job, working to advance your career, or considering changing fields, a staffing agency can be an integral partner in your job search.
Working with a staffing agency makes you more marketable. The recruiters help you identify whether a particular employer is right for you while clarifying your skills and interests. In addition, staffing agencies test your skills which helps you and the employer know what you bring to the table and whether it's a good fit.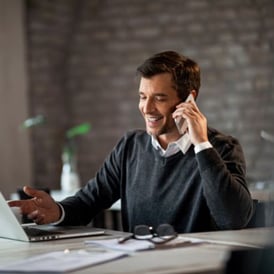 According to the American Staffing Association:
Most (76%) staffing employees work full time
One-third (35%) of those who started out in contract positions were offered a permanent position
Nine out of 10 say staffing work made them more employable
1. Jobs and Connections
When it comes to getting a job, many say it's all about who you know. Staffing agencies have a vast network, and they share those connections with you! Busy employers turn to staffing agencies to fill their positions on a regular basis.
Some of those jobs are contract or contract-to-hire, and others are direct-hire opportunities. Staffing agencies know many local employers and can make connections for you there as well.
Job seekers sometimes stray away from contract work because it's typically short-term, but contract jobs can be very beneficial. For example, working somewhere in the short term can bridge the gap of not working at all and help you gain experience and additional skills. In the event an employer becomes ready to make that position or a different position full-time, you already have a foot in the door.
Staffing employees work in virtually all occupations in all sectors:
37% Industrial
28% Office–Clerical and Administrative
13% Professional–Managerial
13% Engineering, Information Technology, and Scientific
9% Healthcare
2. Deep Market Knowledge
Recruiters at staffing agencies have a deep knowledge of the job market. They know the current trends and can predict when change is coming. They know what skills are in demand and how to find and keep work in the current economy.
3. Applicant Tracking Capabilities
Even if a staffing agency doesn't have a job to place you in at the moment, they won't forget about you. Some staffing firms even market your talent profile to companies they partner with whether a position is available or not. With applicant-tracking capabilities, recruiters can store details about your skills and interests and then contact you when a job opportunity arises.
4. Interview Preparation
Recruiting agencies help prepare you for interviews by reviewing your resume and coaching you on interview best practices. Your resume is the first impression you make on a hiring manager, and it's important that it stays at the top of the stack.
At FrankCrum Staffing, we help job seekers find long-term success. Our employer network contains a broad range of industries and positions, including everything from administrative and technology to service and light industrial. Many candidates are also surprised to learn that FrankCrum Staffing offers benefits to contract employees who meet certain criteria. Call today to learn more (727) 683-2780.