The dawn of a new year presents the opportunity to pursue fresh starts, set goals, and self-reflect. As 2021 comes to a close, some may find themselves wondering if their current career path is right for them. If this sounds familiar and you are on the hunt for a new job in 2022, we're here to help you identify some of the most in-demand fields and professions for the new year and beyond.
The Top 3 Fastest Growing Industries
Healthcare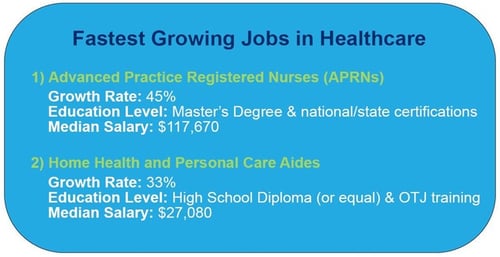 Placing healthcare workers at the top of the list of fastest growing jobs in the US is not much of a surprise. The healthcare industry has long been in need of more personnel, and the COVID-19 pandemic only served to exacerbate this further.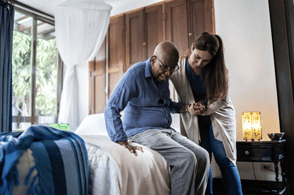 The increasing demand in the healthcare field is most obviously present for nursing jobs. The fastest growing in the field are advanced practice registered nurses (APRNs), according to the U.S. Bureau of Labor Statistics' Occupational Outlook Handbook (OOH). Examples of APRNs are nurse anesthetists, nurse midwives, and nurse practitioners. Positions for home health and personal care aides as well as registered nurses are also expected to grow vastly in the next decade.
Other notable professions related to healthcare and wellness on the rise in the next 10 years are dental hygienists and mental health professionals.
Information Technology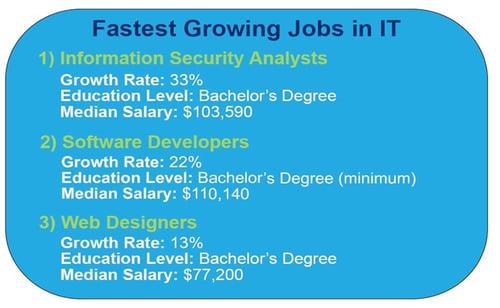 It is also not surprising to see information technology (IT) specialist jobs on the rise in 2022 and beyond. IT positions have been in demand for years: In fact, here at FrankCrum Staffing, we even have a recruiting division that specializes in IT jobs!
Perhaps now more than ever, the workforce at large is entirely reliant on technology for day-to-day operations, and as technology becomes increasingly advanced and specialized, niches within this field continue to grow.
As the reach of technology continues to expand, businesses must take extra care to protect themselves from data theft and cybersecurity breaches. Available positions for information security analysts are rapidly rising to meet this need.
Businesses also continue to embrace and expand the reach of their companies' technological resources with updated, user-friendly websites and applications. Custom websites and apps, created by software developers and website designers, allow for a better user experience that correlates to better sales. These two professions continue to grow as a result of the role they play in business development.
Mathematics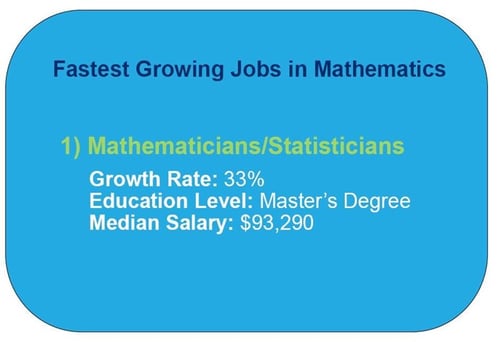 At some point, probably every high school student has asked the question, "When am I ever going to use math in my real life?" They would be shocked to find out that mathematics makes up a highly in-demand career sector!
Data analytics is critical for businesses: It allows them to track key performance indicators (KPIs) and make procedural adjustments to ensure continued growth.
The government also uses statistics to analyze metric variances throughout the country. As a matter of fact, much of the data presented in this article would not be possible without the work of the statisticians and data analysts at the U.S. Bureau of Labor Statistics.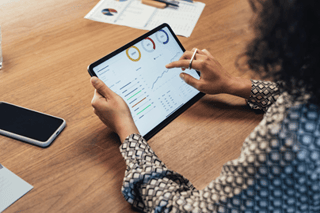 Healthcare entities rely heavily on statistics as well. In the past 2 years, we have been bombarded with statistical data surrounding the COVID-19 pandemic, like projected seasonal infection rates and per-capita incidence cases. The data presented to us by news outlets is the result of data analyst and statistics jobs.
Due to their key importance in tracking metrics across all fields, statistician and data analyst jobs will remain among the fastest-growing jobs in 2022 and over the course of the next 10 years.
Newly Emerging Fields
Also worth noting are careers in on-the-rise industries. While the above-mentioned, top jobs for the upcoming year are in industries that have historically been ranked among the most in-demand, new technology is projected to create a demand for some more specialized career tracks that are likely to become some of the fastest-growing jobs by 2030.
Alternative Energy
The demand for alternative energy jobs is expected to explode dramatically over the next decade. According to the OOH, job opportunities for wind turbine service technicians are projected to increase 68% by 2030! Similarly, positions for solar photovoltaic installers have a predicted 52% growth rate. As our nation turns more and more toward renewable energy sources, the demand for skilled workers to install and maintain these devices will follow.
Cryptocurrency
Cryptocurrency investment has risen in popularity at a considerable rate over the past few years. With this, we are seeing more businesses considering digital currency as a viable means of payment. As this transition continues, companies will seek alternative payment experts to join their teams.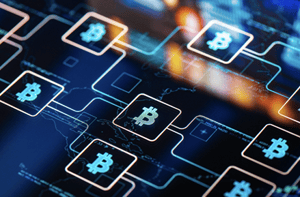 Examples of these specialized positions are cryptocurrency managers and blockchain developers. We are already witnessing anecdotal evidence of the growth of alternative payment jobs, with both Amazon and Walmart listing jobs for digital currency experts earlier this year.
As interest in cryptocurrency and alternative payment methods increases among Fortune 500 companies, it stands to reason that more companies will follow suit, which is why digital currency careers are expected to be some of the fastest-growing jobs in the next 10 years.
Machine Learning and Artificial Intelligence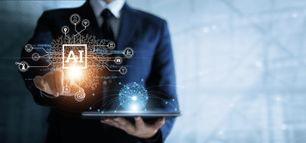 Another growing sector is machine learning and artificial intelligence. We are witnessing a trend toward process automation in an effort to increase efficiency and productivity. The pandemic fueled this already growing movement, as limitations to in-office work forced many companies to embrace automation further.
This trend has sparked fear of job loss for many years, and while the World Economic Forum supports this with a projected 85 million jobs replaced by automated technology by 2025, it also projects that 97 million jobs will be created to support and maintain these automated technologies – a net gain in overall positions as a result of mechanized automation.
In Conclusion
While this is certainly not a definitive list of every job expected to grow between 2020 and 2030, we hope it can shed light on some observations regarding ongoing trends in the workforce.
As always, FrankCrum Staffing is here to assist you in your pursuit of new career opportunities. Start your journey to a new career today by visiting our find work page!