As the newest demographic entering the workforce, Gen Z is often misunderstood by employers. It's a common belief that younger generations have high expectations for snazzy job perks like coffee bars and basketball courts. But in reality, their expectations reflect the generation's increased focus on wellness, in every sense of the word.
What is Gen Z?

Gen Z, the successor to the millennial generation, is the age demographic made up of individuals born between 1997 and 2012. As the first true digital natives, Gen Z cannot remember a time when the internet did not exist, nor a time when information was not available from the palms of their hands. This intuitive relationship with technology has shaped them in many ways.
First, they are a generation of multi-taskers, accustomed to having multiple programs and browser tabs open at once. Second, they are independent, relying on tools like Google and YouTube to answer their questions and teach themselves new skills. Finally, they are highly adaptable and drawn to fast-paced environments, having witnessed the rapid evolution of technological developments and trends throughout their lives. Doubtless to say, the youngest generation in our workforce has a lot to offer.
As such, many businesses find themselves asking what they can offer to attract employees of this generation. With wellness in mind, we can examine the top things that will draw Gen Z candidates to your business.
Financial Wellness
It shouldn't come as a surprise that Gen Zers place financial wellness and security toward the top of their list of must-haves. The Great Recession that spanned from 2007 until 2009 took place in the early formative years of their childhoods, and now they are faced with the unique challenge of stepping into adulthood in the midst of another challenging economy.
The COVID-19 pandemic served as a catalyst for yet another economic recession, inducing mass lay-offs and business closures in 2020. These circumstances are shaping the early stages of Gen Z's adulthood.
Members of Gen Z have seen the impact of a turbulent economy, and are focused on taking responsibility for their future financial security, as a result. A bare minimum expectation is a 401k retirement fund with percentage matching from their employers.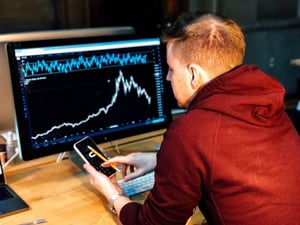 Moreover, companies willing to assist with financial burdens will find hiring Gen Z to be an easier feat. As recent college graduates enter the workforce, many find themselves laden with debt, from student loans to credit cards. A company willing to offer tuition reimbursement or student loan debt repayment can be a winner in the eyes of a Gen Z job seeker.
Additional perks include employee financial wellness programs, like access to advice from financial planners, and reduced expectations for employee out-of-pocket expenses. This can be offered through workplace incentives like casual attire (cutting the cost of a business professional wardrobe), access to free or affordable meals, and support of public transportation (eliminating vehicle expenses including maintenance and soaring gas prices).
Personal Wellness
A workplace that emphasizes personal wellbeing is another contributing factor in the Gen Z job search. Young people are seeking a relaxed and enjoyable working environment and place an emphasis on company culture, as they recognize that communication, acceptance and camaraderie are directly influential to their mental health.
We recently wrote about some common mental health concerns in the workplace, which can lead to reduced performance and increased absence/turnover rates. Gen Z is attuned to spotting these trends. The younger generation's scope of personal wellness isn't limited to routine doctor's appointments: to get Gen Zers on your team, you'll want to make sure your benefits package offers them mental support as well.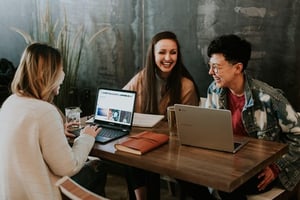 Currently, the most prevalent example of a personal wellness benefit would be workplace flexibility. Work-from-home and hybrid work opportunities are becoming increasingly valued as job perks across all generations, and Gen Z is no exception. The younger generation appreciates the impact that workplace flexibility can have on their ability to maintain an appropriate work-life balance.
Some other examples of mental wellness support would include insurance that covers mental wellness programs, along with scheduled company events like happy hours or group yoga/meditation classes. They also expect parental leave, which benefits both their mental and physical wellbeing.
Community Wellness
Rounding out the top of Gen Z's list of most valuable workplace qualities is a commitment to community engagement. Younger generations look for companies to set an example and use their influence for good: as a result, this generation will be more drawn to work for companies with strong community missions and a commitment to volunteer engagement.
And Gen Z wants to do their part, as well. They're not just looking for businesses who make high-level corporate donations; rather, they want their contributions to be hands-on. Some companies offer the option to participate in paid volunteer hours, appealing to Gen Z's trend of increased social activism. Gen Z wants to work for a company that recognizes its position and uses its influence to give back to the community, so taking on more charitable engagements is a win for everyone.
We recently covered some tips for creating a workplace to attract and retain top talent, and you might notice that there are a lot of similarities with what the younger generation is expecting. They're not looking for anything flashy: just a company that pays attention to their wellbeing and the wellbeing of their community.
If you're a small business looking for help offering an attractive, affordable benefits package to your employees, you can look to our sister company FrankCrum for help. Click here to find out more about how a PEO can help you offer comprehensive benefits plans to attract top talent from the pool of young professionals in Gen Z.