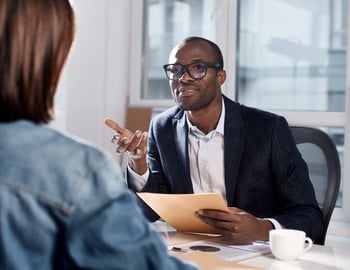 As a hiring manager, you play an essential role in effectively communicating expectations to new employees and setting them up for long-term success.
However, the need for open and honest communication doesn't end with the hiring process. Having conversations about expectations should be an ongoing part of employment but is often viewed as a challenge. According to research by the Harris Poll, 69% of managers said they're uncomfortable communicating with employees due to fear of hurting people's feelings and dealing with retribution.
Failing to demonstrate what is expected of employees can be detrimental to the individual, the team, and even the business. If you are unclear, it can leave workers feeling confused and disengaged, resulting in falling short of their goals and even leading to increased turnover.
Read on below to learn more about the benefits of clearly communicating expectations and how to do so effectively.
Why Is It So Important to Communicate Expectations?
Employee expectations are often associated with performance goals, like hitting key performance indicators (KPIs), but what's actually expected can go well beyond simple metrics. Addressing characteristics required for long-term success can include personal attitudes or behaviors, like maintaining good attendance and working with integrity.
Clear communication will save you trouble down the line by preventing mistakes and misunderstandings. By eliminating guesswork, employees can focus their energy on what you've defined as success.
Beyond saving time and increasing productivity, communicating expectations reduces confusion, which directly affects employee satisfaction. Those that are comfortable in their positions and know their roles often feel empowered, resulting in increased productivity, motivation, and happiness. The happier the employee, the more likely they will perform well and stay in the role long-term.
How to Communicate Expectations Effectively
1. Set Expectations Early
Aim to convey employment requirements during recruitment and squash confusion before it arises. You don't want a brand new employee to be blindsided by conditions not clearly communicated during the hiring process.
Begin setting expectations during interviews by addressing the key items below: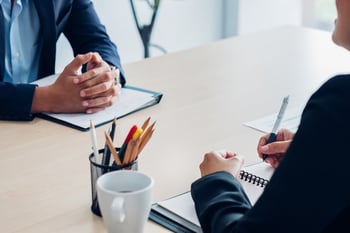 Requirements of the job
Performance expectations
Organization's goals
How the position supports the organization's goals
Once the candidate accepts the job offer, communication about employment becomes more formal to comply with legal requirements and make employees aware of their rights and responsibilities.
If special work requirements apply to the new hire's job or department, it is helpful to have the supervisor present at the orientation or onboarding meeting, often conducted by HR.
During the new hire orientation, the supervisor or HR representative should:
Provide the new hire with a copy of the employee handbook and any work rules (either hard copy or electronic format is acceptable)
Give the new employee a written job description and, if possible, the criteria on which performance is evaluated
Review main considerations concerning expectations and work rules
Encourage the new hire to ask questions about the job description, expectations, rules, or evaluation criteria and answer them all
Obtain the new hire's signature acknowledging receipt of the handbook and affirmation that they had an opportunity to ask questions and that they were answered
Employment expectations might change and often do. Avoid taking a "set it and forget" approach. Instead, frequently check in with updates.
2. Hold Regular Team Meetings
Holding regular meetings can be a great way to encourage a team to stay up to date on projects, brainstorm ideas, and hold each other accountable. Set a cadence that works for everyone and stick to it.
Be sure to have each team member mention what they're working on, what they need to be successful, what roadblocks they are experiencing, and encourage them to ask questions to clear up uncertainties.
This is also the perfect time for the manager to inform the team, collectively, of new or upcoming projects and set clear expectations for specific, measurable goals and deadlines.
3. Hold 1-on-1 Sessions
Holding regular 1-on-1 meetings is a valuable opportunity to set expectations, review performance, and provide feedback. It's a chance to get on the same page and can yield a high return. What separates a 1-on-1 from a team meeting is that dedicated uninterrupted time together offers space for rapport development, trust building, and conversations that may not be appropriate for the group.
Create a habit of clearly defining expectations for upcoming projects, addressing past or potential missteps, and sharing advice on avoiding future challenges. Allow time for your employee to speak freely and provide their feedback, questions, or concerns.
By allotting time for 1-on-1s, you set a precedent for open communication with employees that goes far beyond the scheduled meeting.
They say communication is key for a good reason. If your employees don't understand your expectations, they won't know how to deliver, and therefore, will be more likely to fail. Communicate expectations clearly up-front, then reconnect and regularly reassess along the way. Your employees will thank you.