Busy season is starting, and a valued employee abruptly quits. What do you do?
Without knowing how much staffing agencies charge employers, many assume that using an in-house HR team for recruitment is the most cost-effective method. After all, staffing companies charge placement fees, and no one wants to spend extra money. But if your financial analysis is based entirely on agency fees, you're missing the big picture.
What about the cost of missed business opportunities, the value of your internal HR resources, and the price tag associated with a bad hire?
Do you even know what staffing companies charge?
Let's take a look at the intangible and hidden costs associated with hiring.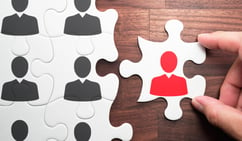 What Is the Real Cost of Hiring?
If you believe the hiring process works like this:
Place a job opportunity on a job board
Qualified applicants swarm the position
Interviewing applicants is quick and easy
The perfect candidate accepts your offer
The employee spends a long and fruitful career with your company
…then you can stop reading. But you probably know that the fairytale scenario above is rare indeed.
To truly understand the value of effective hiring, you must consider its real (and sometimes hidden) costs.
The Cost of Missed Opportunities
Opportunities for profit and growth are sacrificed when a job remains vacant.
Many employers compensate by increasing the workloads of their current staff. This plan can backfire by increasing employee burnout and turnover, leading to even more significant disruption.
Some deal with open positions by allowing work to go undone – tasks remain incomplete, orders go unfilled, processes aren't improved – while the company's market advantage erodes.
Others miss time-sensitive business opportunities based on seasonality, economic shifts or consumer trends because they're unable to increase their workforce quickly to meet demand.
When considering personnel solutions, it's essential to factor in the opportunity costs associated with ineffective staffing practices.
The Cost of Your HR Resources
Even when the hiring process runs smoothly, it's a lot of work. When an in-house HR recruiter receives a job requisition for a new role or one that hasn't recently been requested, there isn't an active candidate pipeline. Instead, the recruiter will start from scratch. The opportunity will require heavy promotion on job boards, in social media, at job fairs, and through industry organizations. This activity could produce a tiny candidate pool – meaning more recruitment work (and time) is necessary. Or the response could be tremendous – meaning a high volume of resume reviews, pre-screenings, skills assessments, and interviews will follow.
If this lengthy process ends with an offer, the candidate may reject it, and the process will continue. Even after an offer is accepted, HR has work to do. There is still a background check, drug screen, onboarding paperwork, benefits, and payroll to complete.
Corporate human resources departments have many responsibilities including training and development, compensation, employee benefits, employee relations, hiring and recruiting, and some legal. Instead of straining your HR department, consider how alternative staffing solutions might reduce their burden.
The Cost of a Bad Hire
Your HR department went through the recruitment and hiring process and delivered an employee. Yay! You may have lost business opportunities while the role was vacant, but now you're ready to move full-speed ahead.
Then you discover the new guy is always late, lazy and ineffective. Now what?
The cost of a bad hire cannot be understated. The expense of hiring, training, onboarding and severance will sting financially, but even worse are the business opportunities missed as you go through the entire hiring process for the second time!
What if there was a way to improve your chances of hiring the right person by partnering with a staffing agency that specializes in the field? What would that be worth?
The Cost of a Staffing Company
Now that we've taken a good look at the real cost of hiring, let's see how much staffing companies charge employers and how they structure pricing.
Employers, not applicants, usually pay job placement fees. This arrangement allows staffing companies to focus on building a robust pipeline of qualified candidates, instead of nickel and diming them.
There are three typical scenarios in which an employer enlists the help of a staffing agency for recruitment: Contract, contract-to-hire, or direct hire placements.
Contract Placements – These allow a company to engage a contractor/consultant by paying an hourly rate for a temporary period of days, months or even multiple years. Instead of transferring payroll, benefits, workers' comp and the assumption of unemployment liability to the employer, it remains with the agency. In this case, employers can expect a bill rate that will include not only a percentage of the candidate's salary but additional service fees as well.
Contract-to-Hire Placements – This is a "try before you buy" hiring practice. A company will pay an hourly fee for a contractor/consultant – for a predetermined or indefinite period – with the intent of eventually transitioning the individual into a full-time position with the company. Staffing agencies may apply a temp-to-hire conversion fee in this case.
Direct Hire Placements – These require the staffing company to complete the legwork of the recruiting process, up to the point of a job offer. The cost incurred for this type of placement is generally 30% of the candidate's first-year salary. An alternative option is a retainer fee – a one-time, up-front fee – that retains the firm to recruit for open position(s) for a specific period.
It's imperative to consider the ways personnel, one of the most substantial business expenditures, can contribute to your company's financial health. When it comes to staffing, be sure to compare the hidden and intangible costs, along with agency placement fees, to ensure you are making the best decision.
At FrankCrum Staffing, our pricing is competitive and transparent, and you never pay until a candidate is placed.
To learn more about how FrankCrum Staffing can help solve your staffing challenges, call 888-670-1844.