In today's tough labor market, candidates are choosing hiring managers as much as hiring managers are choosing candidates. For years now, workers have expected more from employers in the way of employee benefits and flexibility. So what is top talent looking for in 2019, and what should you be looking for in them? Here are three recruiting strategies for hiring great employees in 2019's tough labor market.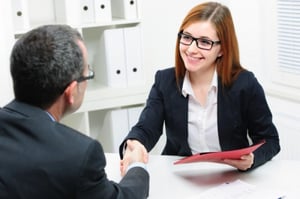 1. Be Transparent
One thing job seekers want in 2019 is more transparency about pay and company benefits. With the rise in popularity of sites like LinkedIn and Glassdoor, employees are seeking transparency about everything they're finding online.
While employers are being more open about the culture of their companies, many remain concerned that publishing information related to salary will ignite salary disputes with current employees and limit their ability to negotiate with new candidates. Those who do share salary ranges early in the recruiting process say the process moves more quickly and the candidates stay longer.
Candidates are also using their online skills to research company backgrounds and cultures before applying. Be open and honest with candidates about any negative comments they may inquire about. Some situations can be explained by organizational changes and others simply require a little perspective.
Here are 3 Ways to help improve your hiring process:
Focus on Employer Branding - make sure candidates know why they should want to work for your company. What sets you apart? Do you have a mission, culture or values?
Create Posts that Reflect your Company - make sure you're embracing your company culture and brand as you post job descriptions for social recruiting.
Find Passive Candidates - reach out to people who have the hard and soft skills you desire, and let them know you want to hire them - even if they're already employed!
2. Be Flexible
Flexible work schedules are becoming the norm as the tight labor market forces employers to get creative so that they may stand out amongst their competition. The flexibility to work when and where they want has become a top priority for candidates, especially the younger generations. More employers are taking note. In the past three years, there's been a 78 percent increase in job posts on LinkedIn that mention work flexibility.
3. Seek Soft Skills
While hard skills are important, hiring managers who seek candidates who are creative, adaptable and able to collaborate tend to have less turnover and stronger productivity. Recently, more than 5,000 recruiters were surveyed in a LinkedIn study. A great majority (92%) value soft skills as much or more than hard skills, but say interviewing for soft skills by measuring attitudes and intuitions remains a challenge.
Ask open-ended or problem-solving questions about these soft skills during the recruitment process:
Communication
Self Motivation
Leadership
Responsibility
Decisiveness
Teamwork
Problem Solving
Time Management
Flexibility
Conflict Resolution
Outsourcing the hiring process to a recruitment agency eliminates a lot of the hassle associated with hiring and can lead employers to high quality candidates. FrankCrum Staffing finds and screens potential candidates and narrows the pool for a smooth interview process. We see you through the job offer, payroll, benefits and more! To learn more about our recruiting methods, call 888-670-1844.