To get ahead of the competition and excel in the long run, companies need a team of high-performing employees. In today's market, the candidate pool is large and filled with eager job seekers, making it difficult and time-consuming for employers and hiring managers to vet applications diligently. Hasty or inefficient processes can leave potential superstars hanging by the wayside. Don't let your application process be the reason for missed opportunities.
The application experience is an important first touchpoint between job seekers and your brand. Consider this your organization's first impression. It's one of the first points of contact – albeit virtual – that gives prospective candidates a glimpse into your company. From the questions asked to the platform's usability, the application process speaks to the candidate and leaves a lasting impression.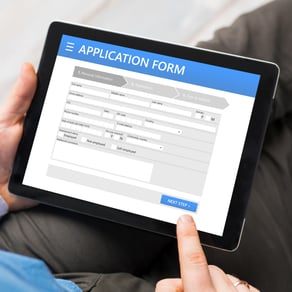 Refining your job application process can help your organization hold candidates' interest and weed out less favorable applicants early on. We've narrowed down the top three ways to improve your application process. First, a few preliminary items:
Define Your Goals
Before addressing your application process, figure out what your company's hiring goals are. Are you trying to build a more diverse workplace? Do you want to streamline your recruitment process? Are you hoping to lower the rate of new hire failure? Sit down with management and your recruitment team to break down the focus areas for improvement.
Assess Your Current Application Process
To optimize the recruitment funnel's application stage, you first need to understand where pitfalls lie in your existing process. Identify where candidates are dropping off. These are areas that you'll want to revisit.
Go through the process yourself and take notes on the experience. Were any questions difficult to understand? How long did the application process take? Were there any technical issues? Once your goals are aligned and you know the problem areas, it's time to take practical steps to improve your application process.
Step 1. Job Description
The job description should relay important information about the role and your organization. After reading it, candidates should clearly understand the tasks they would perform in this role, the skillset and qualifications necessary to succeed, and what to expect of the company's culture.
Refrain from going overboard with details, though. The job listing shouldn't look overwhelming. Keep the information direct, concise, and visually appealing. Text-heavy job descriptions are a quick way to deter individuals from reading the full post. Consider breaking sections into paragraphs so the copy is easy on the eyes. Use bullet points and numbers to segment list items.
Be aware of the biases in your writing that can occur unconsciously. To keep the hiring process impartial, learn how certain words may deter candidates. Steer clear of gender-biased job titles, like "craftsman," "fireman," or "cleaning lady." Instead, choose titles like "artisan," "firefighter," or "cleaner."
Be sensitive to words associated with gendered stereotypes, like "leader" or "powerful," that are often associated with masculinity, or "support" and "understanding," which are often associated with femininity.
Lastly, keep the "must-haves" in your job descriptions and cut the rest. Candidates need to have a clear and accurate understanding of the position and the company culture, but be sure to save the finer points for the interview.
Step 2. Perfect Your Online Application
The job description should be the first step to weed out unqualified candidates. Your online application offers candidates the opportunity to highlight their skills. Here are our tips for perfecting your online application process:

1. Keep it short. Active job seekers want to get in and out of the application process as swiftly as possible. No matter how interested a candidate is, a time-consuming process will likely deter them from completing their application in one sitting. In fact, according to Career Builder, 60% of candidates abandon an application in the middle of the process due to complexity or length.

2. Ask only necessary questions. The application process allows you to learn about the candidate and what they can offer your organization. However, keeping the process short is key.

Ask the most pertinent questions up front and then conduct a preliminary assessment to screen those who lack the competencies to perform the job successfully. In the mix of skills-related questions, consider including a question that illuminates the individual's Emotional Intelligence (EQ) and sheds like on their personality. Save the rest for the interview process.

3. Optimize for mobile. For the first time, in 2020, more applications were submitted via mobile than desktop. An increase in mobile application rates by 21.2% in 2020 compared to the previous year indicates just how critical it is for your application process to be mobile-friendly. When designing your application process, think "mobile first."
Step 3. Use an ATS or Staffing Firm
You've revised your job descriptions and addressed pain points in the application process, but the streamlining isn't over yet. Consider implementing an Applicant Tracking System (ATS) or utilizing a staffing firm's services to help take the efficiency of your recruitment process to the next level.
An ATS automates recruitment operations and provides a single repository for applicant data. It can help reduce time, provide more accurate and quicker screenings, and improve hire quality.
You might also consider using a staffing firm to implement candidate tracking and vetting. Outsourcing to experts will surely afford you more time to engage with highly qualified candidates.
The job application process is important to get right. If it isn't thoughtfully designed, you could miss out on or deter ideal candidates. For more information on improving your job application process and how working with a staffing firm can help you get it right, contact FrankCrum Staffing today: 888-670-1844